We provide online education for registered nurses working in emergency care settings. Our education provides CPD opportunities, underpins our own FEN education programmes and qualifications. Our members do not have to commit to undertake a qualification and can use the webinars, which are delivered by experienced emergency nurses, other specialists and renown international speakers from across the UK and Ireland. In the future we would like to extend membership to other members of the nursing workforce.
Our qualifications are being developed from our competencies which have gone through several revisions since we started some 20 years ago. The latest versions of our competencies are being developed into vocational (work-based) learning qualifications; so that emergency nurses can get recognised credits for their clinical skills and underpinning knowledge.
The FEN Qualification learning outcomes are open access to non-members, however our full qualification units with the assessment criteria are only available for members.
Our repository of Assessment Tools and guides are freely available to help Emergency Nurse demonstrate their competence and provide robust evidence for portfolio development.
Education Programmes
We are currently providing four educational webinar programmes, all of which can be viewed by members and used as a CPD opportunity as long as the members has either purchased an initial two year membership or has been a member for more than one year. The programmes are :
AFEN Programme
AFEN programme is aimed at developing rounded competent, capable emergency nurse, Held every Tuesday between 19:00 and 21:00. To access these you must be a AFEN/MFEN member.
MFEN Programme:
MFEN programme is aimed at developing proficient emergency nurses capable of taking charge of a department or unit. Held every second, forth and fifth Thursday 19:00 to 21:00 hrs. there is an expectation that MFEN programme learners would also access the Assessors Sessions, Monthly Webinar Sessions and the AFEN Programme to ensure up to date in clinical practice. To access the MFEN sessions you must be a AFEN/MFEN member.
ASSESSORS Programme:.
FEN assessors webinars. The assessors programme is designed to support emergency nurses who wish to assess others undertaking a vocational based qualification. The sessions deliver the education required to undertake a Level 3 Certificate in Assessing Vocational Achievement (CAVA) which is a nationally recognised qualification – although there is no expectation that assessors will undertake this qualification. Additionally the sessions provide an opportunity to network with other assessors and internal quality assurers who can offer support and guidance. The sessions are held third Thursday of every month 19:00 to 21:00 hrs. Both the live and recorded sessions are available to members and non-members. link to the CAVA units: Qualification (agored.cymru)
Monthly General Programme
Sessions are held on the first Thursday of every month 19:00 to 21:00 hrs. The topics are varied and aimed at supporting emergency nurses. The live webinars are open to members and non-members, with some webinar recordings accessibly to non-members.
INFORMATION ABOUT OUR QUALIFICATIONS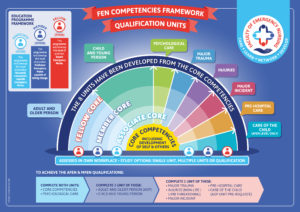 We accredit our qualifications through Agored Cymru, which is an awarding body recognised within the Credit and Qualifications Framework for Wales (CQFW)[1] and is regulated by Qualifications Wales and Office of Qualifications and Examination Regulation (Ofqual) for England. The CQFW can be mapped to the European Qualifications Framework (EQF) which provides a common framework of reference allowing comparisons of national qualification systems across Europe[2]. England, Northern Ireland and Wales use the same level six to eight as the EQF whilst Ireland and Scotland have extra levels within their frameworks – see Qualifications Can Cross Boundaries (QAA 2019)2. In the CQFW and other frameworks, the title of the qualification will tell you the size and level of the units and qualifications [1]. The level determines the degree of difficulty from entry level to level 8 (Ireland Level 10 and Scotland level 12); and the size is identified by a term: Award for 1 to 12 credits, Certificate for 13 to 36 credits and a Diploma for 37 or more credits.
Our first qualification available is the Associate Level Qualification (AFEN) and is titled: Agored Cymru Level 6 Diploma in Emergency Nursing (Associate Level of Faculty of Emergency Nursing) (equivalent Ireland Level 7 to 8 and Scotland Level 9 to 10). It provides 120 credits. All the Agored Cymru units with the learning outcomes and assessment criteria are freely available in the members area of our website. We support the qualificationby providing a purposefully designed programme which provides sessions for each of the eight units. The aim of the AFEN programme, underpinned by the qualification, is to develop rounded, competent emergency nurses. The virtual programme of webinars runs weekly on Tuesday evenings, 7 to 9pm & is available on catch-up thereafter. The qualifications for Member and Fellow levels are under development with the Member qualification being written at CQFW level 7 (Ireland level 9 and Scotland level 10) and the Fellow qualification being written at CQFW level 8 (Ireland level 10 and Scotland level 12).
Our Member level (MFEN) education programme started September 2021: It is a two-year programme runs weekly on a Thursday evening between 7 to 9pm and the webinars are available on catch-up. The programme provides a mixture of dedicated MFEN education, assessor workshops and monthly webinars. The AFEN programme also supports many of the clinical aspects of practice at MFEN level.. The aim of the MFEN programme is to develop proficient emergency nurse leaders at sister/charge nurse/clinical nurse manager I & II level.
[1] CQFW CQFW ebrochure (gov.wales)
[2] Qualifications can cross Boundaries: Qualifications can cross boundaries: Guide to comparing qualifications in the UK and Ireland (qaa.ac.uk) for